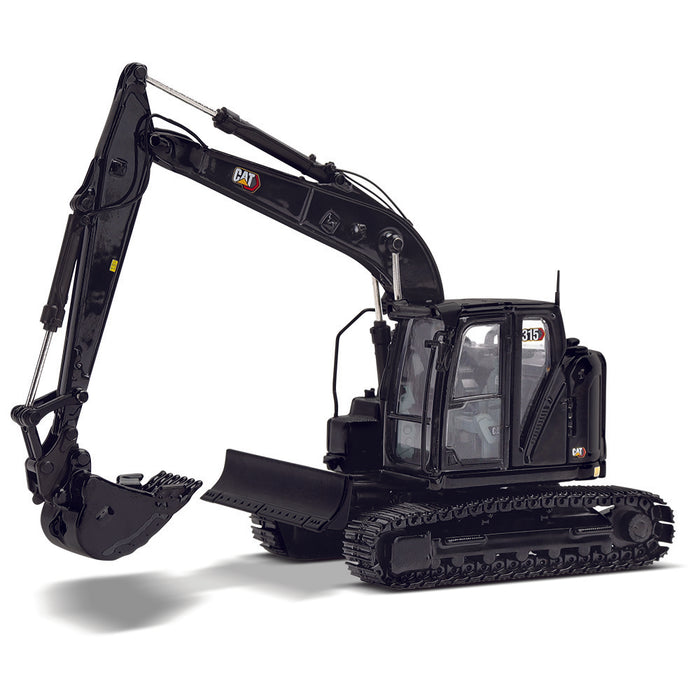 1:50 Cat® 315 Excavator, Special Black Finish
We currently have 24 in stock.
Product Dimensions: 5.2 x 2 x 2.4 in.

Introducing the exquisite 1:50 Scale Diecast Cat 315 Excavator in a striking Special Black Finish! This meticulously crafted model showcases the exceptional quality and attention to detail that sets it apart from the rest. Whether you're a collector, enthusiast, or looking for a unique gift, this replica will undoubtedly impress.
To ensure utmost protection during shipping, this model comes securely packaged in a white cardboard outer box. Rest assured that your prized possession will arrive in pristine condition, ready to be displayed with pride.
What truly sets this model apart is its elegant presentation. It comes packaged in a High Line Series Metal Tin Box, adding a touch of sophistication to your collection. Unveil the beauty within and marvel at the authentic Caterpillar Modern Hex Trade dress, meticulously recreated decals, and flawless paint finish.
Prepare to be amazed as you explore the intricate details of the cab interior. Complete with an operator, control station, and levers, this model showcases a realistic depiction of the excavator's control panel. Every element has been thoughtfully designed to recreate the immersive experience of being inside the operator's seat.
Attention to detail is paramount, and this model doesn't disappoint. From the meticulously crafted hydraulic lines to the intricately designed mirrors and safety railings, no detail has been overlooked. Each segment of the moveable metal tracks features bolt detail, adding a touch of realism to this exceptional replica.
Experience the versatility of the Cat 315 Excavator firsthand with its full-functioning boom, stick, and removable bucket. Take on intricate construction tasks, just like the real machine. Additionally, a front dozer blade is included, allowing you to raise or lower it for various operations.
Flexibility is key, and this excavator delivers. With its ability to rotate a full 360 degrees on its chassis, you'll have complete control over your miniature construction site. Take on any project with confidence and precision.
Discover the numerous opening doors that add an extra layer of authenticity to this model. From the operator's cab door to the engine hatch and maintenance access hatches, each one reveals intricate details that will fascinate any construction enthusiast.
High Line Series Packaging:
Collectible, full-color printed metal box, including machine photos and specifications. Die-cut foam insert protects model within the box. Cardboard outer box provides additional protection.
| | |
| --- | --- |
| Scale | 1:50 |
| Carton Volume (CBM) | |
| Pack | 6 |
| YouTube | |