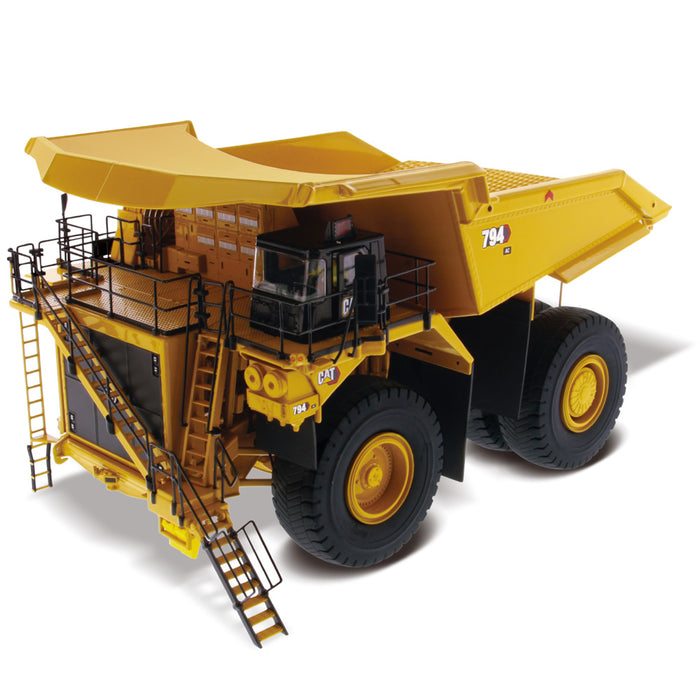 1:50 Caterpillar 794 AC Mining Truck
We currently have 42 in stock.
Product Dimensions: 12.5 x 7.5 x 6.375 in.
The Cat® 794 AC electric drive mining truck delivers a full 320-ton payload,
increased speed on grade, 40% more retarding power then competitive
trucks, superior braking performance and easier maintenance.
The 794 AC features a proven electric-drive powertrain that is Caterpillar
designed, integrated and supported. The 794 AC has proven its
performance in a variety of applications, making it the ideal choice for
a wide variety of applications.
Features and Details:
· Detailed cab interior including removable operator
· Authentic Cat machine yellow paint
· Authentic Cat Modern Hex Trade dress and safety decals
· Truck bed raises and lowers on three-stage cylinders
· Opening engine compartment and engine details
· "Powered" access ladder raises and lowers
· Engine platform access ladders on right and left
· Tread and pattern detail on all visible metal surfaces
· Authentic grab bars, rails and ladders
· Payload scoreboard detail
· Inverter cabinet, hydraulic tank and retarder detail
· Radar box detail
· Rock knockers on rear tires
· Authentic mud flaps
· Body cables on rear of truck
· Authentic tire tread pattern
· Detailed High Efficiency (HE) body.
High Line Series Packaging:
Collectible, full-color-printed metal box, including machine photos and specifications. Die-cut foam insert protects model within the box. cardboard outer box provides additional protection.
| | |
| --- | --- |
| Scale | 1:50 |
| Carton Volume (CBM) | 0.127 |
| Pack | 2 |
| YouTube | Video Coming Soon |